Upcoming 2016 Meetings!
AHNS 9th International Conference on Head and Neck Cancer
July 16-20, 2016
Washington State Convention Center
Seattle, WA
For more information visit http://www.ahns2016.org/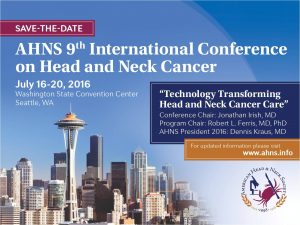 Register for the conference now! Visit www.ahns2016.org/registration for more information.
Headquarters Hotel – Sheraton Seattle Hotel 1400 6th Avenue Seattle, WA
Book your hotel accommodations now! Visit www.ahns2016.org/housing
Exhibiting Companies: Secure your exhibit space by January 29, 2016 and save $200!
---
Future AHNS Meetings
AHNS 2017 Annual Meeting
Held during the Combined Otolaryngology Spring Meetings (COSM)
April 26–30, 2017
Manchester Grand Hyatt
San Diego, CA