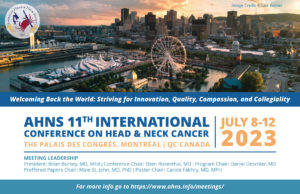 AHNS 11th International Conference on Head and Neck Cancer
Welcoming Back the World: Striving for Innovation, Quality, Compassion, and Collegiality
July 8-12, 2023
President: Brian Burkey, MD, MEd
Conference Chair: Eben Rosenthal, MD
Program Chair: Daniel Deschler, MD
Proffered Papers Chair: Maie St. John, MD, PhD
Poster Chair: Carole Fakhry, MD, MPH
Annual Meeting Headquarters
Palais Des Congres | Montreal, QC, CA
Call for Abstracts
Abstract submissions for the AHNS 11th International Conference on Head and Neck Cancer will be opening in August 2022.
---
Future AHNS Meetings
AHNS Annual Meeting at COSM 2024
May 15-19, 2024 | Hyatt Regency Chicago, Chicago, Illinois
AHNS Annual Meeting at COSM 2025
April 9-13, 2025 | Hyatt Regency New Orleans, New Orleans, Louisiana
---
For AHNS related meetings, please visit: https://www.ahns.info/meetings/related-meetings/
---
For any questions regarding AHNS Annual Meetings, please contact [email protected].
For more information please visit the AHNS Meeting Archives.