Upcoming Webinars
---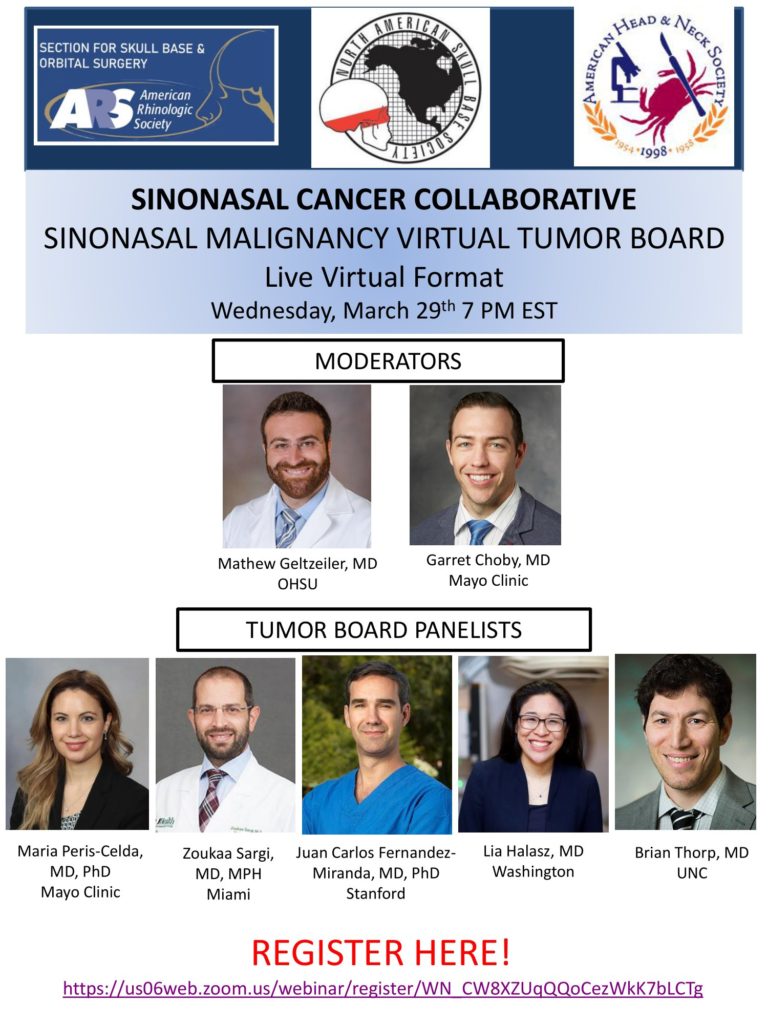 ARS NASBS AHNS
Sinonasal Cancer Collaborative
Sinonasal Malignancy Virtual Tumor Board
Live Virtual Format
Wednesday, March 29, 2023 7:00 PM EST
MODERATORS
Mathew Geltzeiler, MD – OHSU
Garret Choby, MD – Mayo Clinic
TUMOR BOARD PANELISTS
Maria Peris-Celda, MD, PhD – Mayo Clinic
Zoukaa Sargi, MD, MPH – Miami
Juan Carlos Fernandez-Miranda, MD, PhD – Stanford
Lia Halasz, MD – Washington
Brian Thorp, MD – UNC
1-hour session is free to all registrants!
---

AHNS TORS Webinar Series
"TORS LaunchPad: Setting up a Successful Practice & Transition from Fellowship"
Wednesday, April 12, 2023 – 7:00 PM Eastern Time (USA)
Host:
Chris Holsinger, MD, FACS – Stanford University
Moderators:
Julia Crawford – Chris O'Brien Lifehouse Comprehensive Cancer Center, St Vincent's Health, Sydney, New South Wales, Australia
Scott Magnuson, MD, FACS – AdventHealth Nicholson Center, University of South Florida College of Medicine – AdventHealth Orlando
Panelists:
Gabriel Calzada, MD – Southern California Kaiser Permanente Medical Group
Eleni M. Rettig, MD – Harvard Medical School, Brigham and Women's Hospital
Michelle M. Chen, MD, MHS – Stanford University
Shravan Kandula, MD – AdventHealth Medical Group
Learning Objectives:
To understand the learning curve when starting out a TORS practice from fellowship
To describe the nuts and bolts of setting up a successful TORS practice
To review the importance of a multidisciplinary team in setting up a successful TORS practice
To understand and manage the challenges and opportunities of moving from one practice to another
1-hour session is free to all registrants!
The AHNS acknowledges a generous educational grant in support of this educational webinar series from Intuitive Surgical.
Presenters and faculty for this series received no financial support for their participation.
---
Past AHNS Webinars (click the banner to access the recording)
AHNS TORS Webinar Series: "TORS: Optimizing Outcomes, Managing Complications"

Presented
Wednesday, February 22, 2023- 7:00 PM Eastern (USA/Canada)

AHNS Endocrine Section – Town Hall: Focused Practice Designation for Adult Complex Thyroid/Parathyroid Surgery

Presented
Wednesday, February 8, 2023 at 7:00 PM Eastern Time (USA)

Presented by the AHNS Reconstructive Head & Neck Surgery Section
Recon 'Round the World: Asia
"Hypopharyngeal and Nasopharyngeal Reconstruction"
Presented
Thursday, January 12, 2023 at 7:00 PM Eastern Time (USA)
Friday, January 13, 2023 at 8:00 AM Singapore Time (SGT)
Friday, January 13, 2023 at 9:00 AM Kyoto, Japan Time

AHNS Town Hall "Inaugural AHNS Annual Update"

Presented
Wednesday, December 21, 2022 (USA )

AHNS: "Current Challenges & Strategies in Head & Neck Surgical Clinical Trials: Advances in Treatment"
Presented
October 26, 2022 (USA )
"Multidisciplinary Care of Complex Head & Neck Cases: Exploring the Uses of Immunotherapy"
Presented
October 12, 2022 (USA )
October 13, 2022 (Australia)
Recon 'Round the World: AUSTRALIA "Skin Cancer Reconstruction"
Presented
September 29, 2022 (USA) 
September 30, 2022 (Australia) 
AHNS-NASBS-ARS – Sinonasal Cancer Collaborative – "Sinonasal Malignancy Virtual Tumor Board"
Presented
September 28, 2022 
HPV Related Oropharyngeal Cancer –
The Importance of Early Detection & Prevention presented July 20, 2022
Managing Difficult, Distrusting & Demanding Patients
presented June 15, 2022
AHNS Global Symposium: Bridging Continental Divides – Challenges & Opportunities in Head & Neck Oncology Practice in Low Resource Settings

presented April 23, 2022

Professional Obligations & Burnout in the COVID Era

presented March 23, 2022

Molecular Diagnostics & Surveillance in HPV-Associated Oropharyngeal Cancer

presented February 16, 2022

Role of Elective Neck Dissection with Salvage Laryngectomy

presented October 27, 2021

Intraoperative Imaging in Head & Neck Cancer

presented September 23, 2021

Indications of PD-1 Inhibitors for Advanced cSCC

presented April 14, 2021

To Reconstruct or Not: Early Stage Oral Cavity Cancers

presented February 23, 2021

Multi-Disciplinary Approach to Advanced Oral Cancer: Prevention to Palliation

Joint International Webinar presented February 5, 2021

Management of Salivary Malignancy – Case Based Panel Discussion

presented December 9, 2020

Trends in Management of HPV Positive Cancers

presented October 14, 2020
All AHNS webinars and presentations are archived on the website –
Click the links below to watch:
CDMS Virtual Tumor Boards
TORS Webinar Series
Endocrine Section Presentations