The AHNS acknowledges generous support of this educational webinar series from Intuitive Surgical
Upcoming Webinars
Webinar 2 – TORS Alphabet Soup: From Si to SP and beyond
Date TBD
Past AHNS Webinars
Webinar 1 – The Pandemic Papers: TORS Research and Practice Innovation, 2021-2022
Delivered on Wednesday, April 20th 7pm ET/6pm CT/5pm MT/4pm PT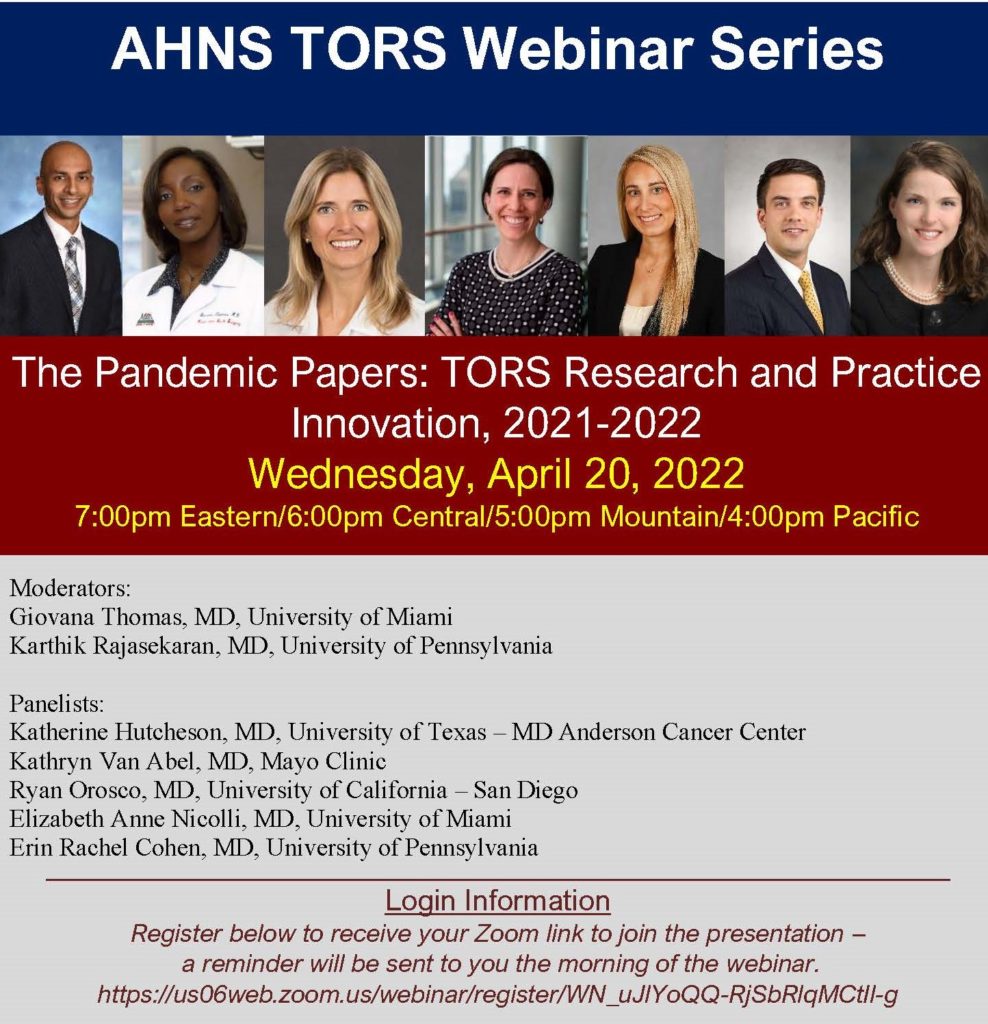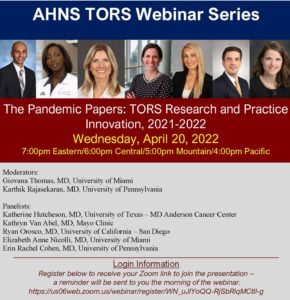 Moderators:
Giovana Thomas, MD, University of Miami
Karthik Rajasekaran, MD, University of Pennsylvania
Panelists:

Katherine Hutcheson, MD, University of Texas – MD Anderson Cancer Center

Kathryn Van Abel, MD, Mayo Clinic

Ryan Orosco, MD, University of California – San Diego

Elizabeth Anne Nicolli, MD, University of Miami

Erin Rachel Cohen, MD, University of Pennsylvania
Description: COVID may have slowed down some of our clinical output, but it most certainly has not decreased the academic output! This interactive session will highlight and discuss some of the studies published over the past 2 years, which would have ordinarily been presented at our national meetings.
Learning Objectives:
Highlight some of the main manuscripts published between 2020-2021 as it relates to Trans Oral Robotic Surgery (TORS) and oropharyngeal carcinoma
Review the take home points from each of these manuscripts
Discuss opportunities for future innovation and collaboration across institutions
Webinar 1 – Patient Selection & Complications
Moderators:
Neil Gross, MD, FACS; MD Anderson Cancer Center
Barry Wenig, MD; University of Illinois at Chicago
Panelists:
Meghan Turner, MD; West Virginia University Medical Center
David Cognetti, MD; Thomas Jefferson University Hospital
Mihir Patel, MD; Emory University Hospital Midtown
Description: Patient selection is key to the successful application of TORS.  Join this expert panel discussion to explore common approaches to selecting patients for TORS as well as techniques for avoiding complications.
---
Webinar 2 – Controversies: ENE and Margin Management
Moderators:
Katie Van Abel, MD; Mayo Clinic
Chris Holsinger, MD; Stanford University
Panelists:
Guiseppe Spriano, MD; H&N Surgery,  Humanitas University, Milano, IT
Mererid Evans, MD; Oncology; University of Cardiff, Wales, UK
Joaquin Garcia, MD; Pathology The Mayo Clinic, MN
Jason Chan, MD; The Chinese University of Hong Kong
Description: Controversies in managing patients with oropharyngeal cancer with TORS and neck dissection are discussed in this multidisciplinary panel.    What are pre-operative indications for the ideal TORS candidate?   Which pre-treatment factors should nudge patients toward chemoradiation?  Are there objective criteria to advise patients? In particular, the panel will discuss the impact of extranodal extension and margin assessment on post-operative adjuvant therapy.
---
Webinar 3 – Evidence based Decision-Making in TORS: Current Data & Future Trends
Moderators:
Uma Duvvuri, MD, PhD – University of Pittsburgh Medical Center
Ranee Mehra, MD; Oncology; University of Maryland Medical Center
Panelists:
Robert Ferris, MD, PhD – UPMC Hillman Cancer Center
Daniel C. Ma, MD – Mayo Clinic
David Palma, MD – London Health Sciences Centre
Description: The incidence of HPV-associated oropharyngeal cancer is rapidly increasing. Given the oncologic outcomes for this disease, there is great interest in rationally de-escalating treatment for some patients. The panelists on this webinar will present current data from clinical trials that describe options for treatment de-escalation. The panel discussion will present real world cases, and provide the audience with an opportunity to understand the application and limitations of these data in the management of patients with oropharyngeal cancer.
---
Webinar 4 – Optimizing Perioperative Care in Transoral Robotic Surgery
Moderators:
Jeremy Richmon, MD, FACS; Massachusetts Eye & Ear
Panelists:
Daniel Clayburgh, MD, PhD; Oregon Health & Science University
Andrew J. Holcomb, MD; Nebraska Methodist Medical Center / Creighton University
Allison Hollman, MS, CCC-SLP; Mass General Cancer Center
Carol M Lewis, MD, MPH; UT MD Anderson Cancer Center
Description: Despite transoral robotic surgery (TORS) being a well-accepted tool in the management of patients with oropharyngeal cancer, perioperative care pathways vary considerably from one institution to another.  Growing utilization of enhanced recovery after surgery (ERAS) protocols have yielded compelling data across multiple disciplines, albeit not yet for TORS.  In this panel, we will discuss the current landscape of perioperative care pathways for the TORS patient including pre-operative counseling and education, management of anticoagulation, ERAS protocols, pain control, speech language pathology involvement and swallow initiation.