Weiss JM, Grilley-Olson JE, Deal AM, Zevallos JP, Chera BS, Paul J, Knowles MF, Usenko D, Weissler MC, Patel S, Hayes DN, Hackman T.
From Clinical Trial. Cancer. July 2018; 124(14):2986-2992.
Article Review by Aviram Mizrachi, MD
Background / Hypothesis
In this phase II clinical trial the authors attempt to stratify patients with head and neck squamous cell carcinoma (HNSCC) undergoing trans oral surgery and select them for adjuvant treatment according to the response to neoadjuvant chemotherapy. The main endpoint of this study was response to neoadjuvant chemotherapy that may lead to de-intensification of adjuvant radiation treatment. Other endpoints were feasibility and safety of this protocol. The induction protocol success was set at >75% response rate. Furthermore, the study looked at the percentage of patients, who "avoided" adjuvant radiation, which they were eligible for by having stage III/IV disease at enrolment.
Design
The study included patients with newly diagnosed resectable HNSCC of the oral cavity, oropharynx (HPV+ and HPV-), larynx and hypopharynx. Patients with T1N0 and T2N0 disease were excluded. The neoadjuvant regimen consisted of weekly carboplatin and paclitaxel and daily lapatinib for 6 weeks. Imaging was obtained 2-5 weeks following the completion of neoadjuvant treatment for evaluation of clinical response. Subsequently the patients underwent trans oral surgical resection of the primary tumor and neck dissection. Patients with pN0 and pN1 disease were observed. Adjuvant treatment included concomitant radiation plus cisplatin and was given to patients with adverse features.
(Figure 1).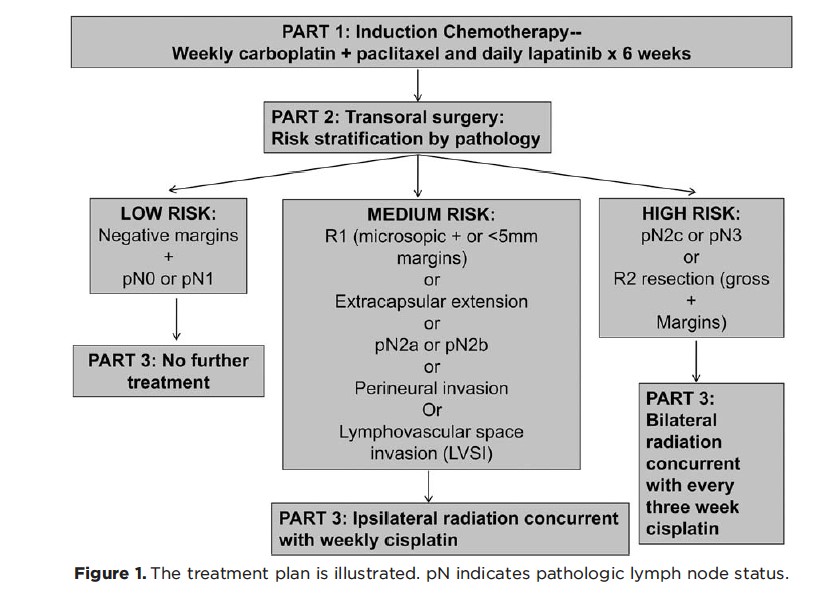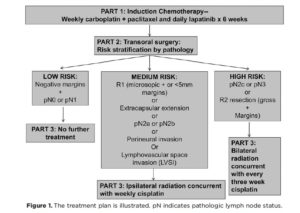 Summary of Results
A total 40 patients were accrued for the trial and 37 completed the full protocol.
The majority of patients had oropharyngeal cancer (75%) however only 17 had RTOG low-risk HPV+ cancer. The clinical response rate for all patients was 93% with 40% achieving complete clinical response. Pathological complete response was observed in 36% of patients with no correlation between clinical and pathological responses. Overall, 30 patients (77%) successfully avoided adjuvant radiation. At a median follow up of 2.4 years none of the patients had recurred or died.
Toxicity in general was mild with diarrhea being the most common adverse event (lapatinib) and neutropenia being the most severe, accounting for grade 3 and 4 toxicity in 38% of patients. Finally, the functional outcomes reported in the study were excellent in terms of speech and swallowing.
Strengths
The study demonstrated high clinical and pathological response rates to neoadjuvant
chemotherapy in patients with advanced stage resectable HNSCC.
The majority of patients successfully avoided adjuvant radiation therapy.
None of the patients experienced recurrence or death during follow-up.
Toxicity profile for this neoadjuvant regimen was relatively modest and well tolerable.
Functional outcomes were good, probably due to the fact that most patients did not
 Weaknesses
Small number of participants.
Heterogeneity of tumor sub-sites and especially the inclusion of HPV+ oropharyngeal
cancer.
The majority of patients were RTOG low and medium risk.
The choice of lapatinib as a neoadjuvant agent while there is not enough evidence to
support its use in HNSCC.
Key Points
Neoadjuvant regimens are emerging and may play an important role in the stratification
and management of patients with HNSCC.
Specifically, the neoadjuvant regimen of Carboplatin and Paclitaxel achieved excellent
clinical and pathological response rates.
The ability to de-intensify treatment by avoiding adjuvant radiation is made possible
with neoadjuvant therapy followed by surgery, which provides valuable clinical and
pathological insights.
De-intensification of adjuvant treatment may result in better functional outcomes and
improved quality of life without compromising survival.
Ongoing clinical trials combining immunotherapy in neoadjuvant regimens are showing
promising preliminary results.
From the Basic Science/Translational Service
Jeffrey C. Liu MD Vice Chair
Richard Wong MD Chair