Figure 4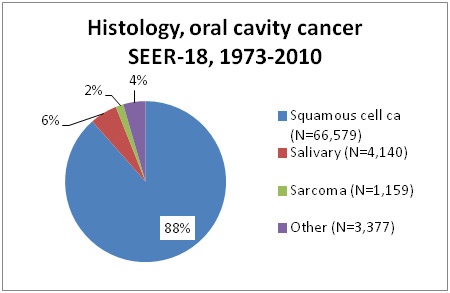 Stage at diagnosis. Stage information is available in the SEER database for most patients. The American Joint Committee on Cancer (AJCC) defines four stages for cancer based on clinical factors and pathologic findings. The stages are defined on the basis of differences in survival outcomes. The specific factors differ between subsites of the oral cavity, but universally involve the maximal size of the tumor, extension into surrounding tissues such as the mandible or skin, number and size of involved cervical lymph nodes, and the presence of distant metastasis. Figure 5 demonstrates the distribution of AJCC stage at diagnosis for oral cavity cancers in SEER, 2000-2010.
Figure 5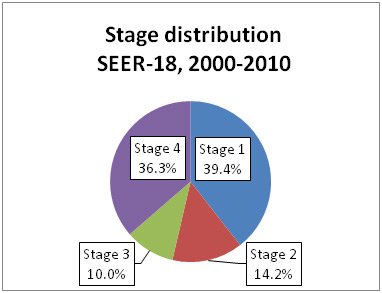 Survival. An actuarial estimate of five year observed survival for oral cavity cancers (at all sites) is shown in Figure 6. Observed survival at five years after diagnosis of oral cavity cancer is 56%. Also shown is relative survival, which is observed survival divided by expected survival; the latter is defined using age, sex, race, and year-specific population data. Relative survival is a way of measuring the survival impact of a health condition such as cancer which is rare in the population as a whole, and is useful when cause-of-death data is not reliable enough to permit a disease-specific survival analysis.
 Figure 6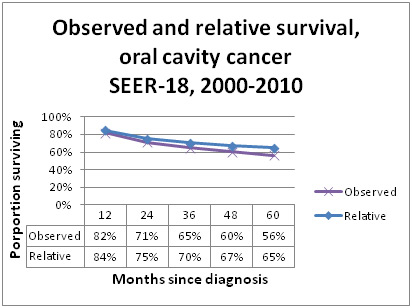 Cancer stage is a useful tool for patients and clinicians in conveying an understanding of prognosis. Figure 7 shows stage-specific relative survival estimates for patients with oral cavity cancer of known stage.
Figure 7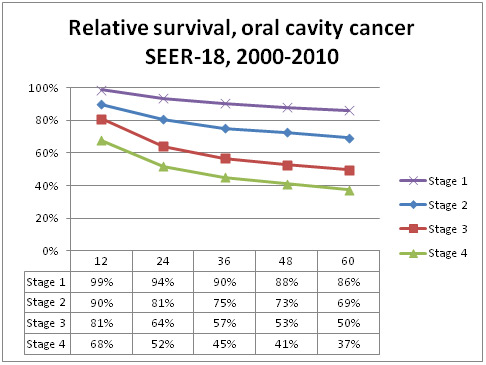 ---
» Click Here If You Have Questions or Comments